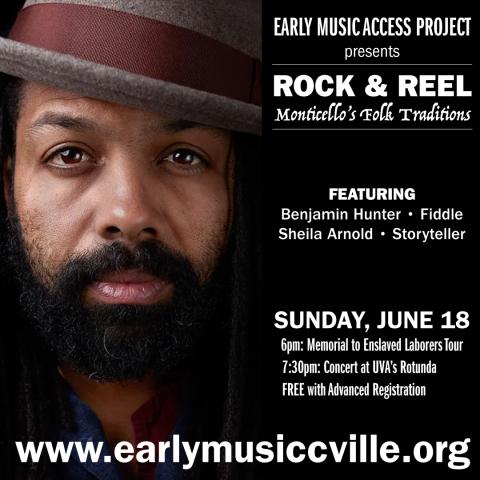 Time
6 p.m. Tour; 7:30 p.m. Concert at UVA's Rotunda
Location
Rotunda & Memorial to Enslaved Laborers
Sponsor
Early Music Access Project
FREE (advanced registration required)
What sounds might a visitor to Monticello have heard? Music was often in the air - Thomas Jefferson was a violinist, and nearly every member of his family also played an instrument, including his three enslaved sons with Sally Hemings, all of whom played fiddle. On Charlottesville's Main Street, the Scott family, related by marriage to the Hemings clan, boasted three generations of fiddlers who played for every sitting president for decades.
In celebration of Juneteenth, Early Music Access Project will present Rock & Reel: Monticello's Folk Traditions, a concert that explores the unique repertoire of these accomplished Black fiddlers, which ranged from raucous reels to stately minuets. The concert also includes a newly written work by composer Jonathan Woody, a setting of a story passed down from an enslaved nursemaid at Monticello, performed in this concert by storyteller Sheila Arnold. This story, "Mr. Fox Tricks Mr. Rabbit and is Tricked in Return," comes from the Brer Rabbit tradition and has elements of Ghanaian storytelling.
This performance features Seattle-based fiddler Benjamin Hunter, baroque violinist and EMAP artistic director David McCormick, and Juilliard-trained baroque violinist Carmen Johnson-Pájaro. Dominic Giardino will play historical clarinets and Loren Ludwig will play early American bass viols.